About Zyter, Inc.
Zyter was founded in 2017 by global business leader and serial entrepreneur Sanjay Govil. The privately-held company is headquartered in Rockville, Md. with offices worldwide.
All products leverage Zyter Core, the company's 5G-ready, HIPAA, FedRAMP and FISMA-compliant communication, collaboration and integration platform. Flexible, modular and scalable, Zyter Core provides 256-bit AES encryption for devices and data and has Authority to Operate (ATO) at U.S. Department of Defense facilities. Zyter Core is used to support the company's two main lines of business: healthcare and Internet of Things (IoT).
Zyter delivers a wide range of cloud-based, software as a service (SaaS) digital health products for providers, payers and patients that span telehealth, home health and remote patient monitoring, as well as care, utilization and population health management. In 2021, Zyter acquired Casenet®, LLC and together the two company's products are used to manage healthcare for 11% of the U.S. population.
Zyter's products improve clinical operations and patient outcomes while reducing healthcare costs by enhancing interoperability, communication and collaboration. In 2021, the company won more than 90 awards for its products including Best Health Care and Medical Innovation; The Most Innovative Digital Health Startup; Best Product and Best Technology. Zyter has a strategic healthcare partnership with Deloitte.
Zyter's 5G-ready platform also supports a wide range of IoT/smart technology products spanning buildings, stadiums, campuses, factories and hospitals. As the foundation for the Qualcomm® Smart Cities Accelerator Program, the Zyter SmartSpaces™ platform supports pre-built solutions for multiple markets including healthcare, education, logistics, retail, travel, and construction.
By integrating and consolidating data from IoT devices and applications into one interface, organizations can gain new insights with Zyter IoT products to improve efficiencies while providing end-users with an engaging digital experience. In 2021, Zyter won 16 global awards for its Smart Factories and Smart Hospitals products.
Click here to learn more about Zyter or to Schedule a Demo.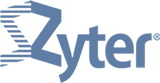 [contact-form-7 id="410″ title="Schedule a Demo"]