The accessibility of care management analytics on clinical systems has been the missing link to whole patient care. With its recent acquisition of Casenet's TruCare® population health solution, Zyter has solved this issue by integrating care management analytics with RPM data and telehealth on the secure ZyterHealth™ platform. The result: a better patient experience, improved outcomes, and optimal value-based care reimbursement for physicians.
The integration of ZyterHealth with TruCare enables physicians in value-based care programs and care management coordinators to easily access all of the patient's data on a single, secure collaboration platform. As a result of having both physiological and social analytics, care teams can identify at-risk patients faster and collaborate to uncover and solve any patient issue before it becomes an emergency.
Learn more about the value of integrating telehealth and remote patient monitoring with care management on a single platform
While you're at HIMSS 2021, be sure to stop by the Zyter booth. You'll see how easy it is to seamlessly access a clinical care plan containing remote patient monitoring and other clinical data from integrated Zyter solutions on one platform.
At Booth # 2549 in the SANDS EXPO, LEVEL 2, product demonstrations will include:
TruCare – TruCare is a leading suite of population health products that enable healthcare payers and providers to improve care coordination as well as the quality and delivery of care.
 Zyter Telehealth™ – Zyter offers healthcare organizations of all sizes a full range of secure, HIPAA-compliant telehealth services including virtual emergency room consultations, remote monitoring of chronic conditions, and post-surgery recovery in the "hospital at home".
Zyter Remote Patient Monitoring™ (RPM) – Zyter offers a complete remote care management approach that offers continuous monitoring coupled with electronic health record (EHR) integration and secure collaborative communication between patients and physicians.
ZyterHome™ – ZyterHome is a comprehensive RPM solution for doctors to care for patients who can benefit from participating in their own care by actively managing, monitoring, and tracking patient health conditions remotely.
We look forward to seeing you at HIMSS 2021!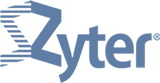 [contact-form-7 id="13067" title="Schedule a Demo HIMSS"]