Reduce COVID-19 Risk
for Staff and Guests
This new white paper explores how to build a four-layer defensive strategy against COVID-19 spread in the workplace. It will also discuss how new technologies and easy-to-deploy tools can be used as part of an integrated strategy to make the workplace safer for staff and guests.
Learn more about Zyter's COVID-19 Suite here.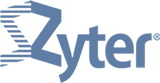 [contact-form-7 id="410″ title="Schedule a Demo"]