Reduce the risk of COVID-19 exposure for guests and employees with Zyter ThermalAlert™ – a dual spectrum thermal imaging solution that delivers continuous, real-time, no-contact temperature monitoring.
If an individual with a high temperature is detected by the thermal camera, smart alerts are sent to security teams or other specified personnel in less than one second. So now it's possible to safely, conveniently and quickly identify individuals with a fever before they enter your hotel, resort or facility – and put staff and other guests at risk.
Even better, with ThermalAlert deployed, you can promote the extra steps your organization is taking against COVID-19. By making your guests feel safer, you'll have the opportunity to potentially increase business in these challenging times.
Build a Four-Layer Defense with COVID-19 Suite™
While ThermalAlert is an effective tool, it is just one of four integrated or stand-alone solutions that Zyter offers against COVID-19. Build a four-layer defense with:
Zyter Daily Health Pass™ – A digital pre-screening solution based on a health self-assessment survey
Zyter ThermalAlert™ – A dual-spectrum thermal imaging solution for mass temperature screening
Zyter Digital Contact Tracing™ – Wireless wristbands worn by employees to track and


record real-time data on their proximity to each other on a daily basis

Zyter Enterprise Portal™ – Provides a comprehensive, holistic view of alerts and other data pushed to the cloud from Zyter's other COVID-19 solutions
Learn more about Zyter's COVID-19 Suite here.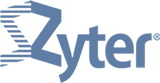 [contact-form-7 id="410″ title="Schedule a Demo"]